SEBO K3 Premium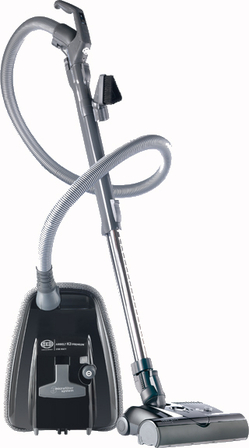 The Fully-Equipped Sebo
The SEBO AIRBELT K3 PREMIUM with the new Electric Power Head, the SEBO ET, cleans your carpeting efficiently and gently – even pet hair is no problem.

The high-quality S-Class Hospital-Grade filtration utilizes the Ultra Bag™ filter bag and is particularly suitable for those who suffer from allergies and asthma. In addition, the SEBO AIRBELT K3 PREMIUM has a unique 3-step micro filter system that does not allow dirt to escape. The integrated accessories and on-board tools are within easy reach.

The lightweight SEBO AIRBELT K3 PREMIUM is extremely powerful with a 2100 Watt motor. The soft foam bumper with its durable textile covering protects your furniture and walls from damage.
SEBO K3 Vacuum Cleaners have been rated #1 Vacuum Cleaner by Consumer Magazine, New Zealand in February 2012, November 2012, March 2013, August 2013, January 2014 & May 2014
Features
Vacuum motor max. 2100 Watts
Weight 5,5 kg
Ultra Bag™, 3 L, 4-layer
Electronic suction power control in the handle
Extra long electrical hose 2,10 m
Electric telescopic tube designed to accommodate the SEBO ET and ET-H
Includes the SEBO ET Power Head, SEBO KOMBI and a Dusting Brush with clamp
Up to 5years parts & labour warranty (domestic use only)


Please contact us to locate your closest SEBO dealer
ULTRA HIGH SPEED (UHS) POLISHER ATTACHMENT
This is optimal floor care only from SEBO without the use of water or chemicials

* The innovative Ultra High Speed (UHS) floor polisher works with a new patented drive disc
* It has never been easier to let hard floors look like new
* Wet wiping can be reduced by as much as 90%
* Its autmatic torque controlled height adjustment guarantees that the floor pad is at the optimum setting
* With a rotation of 2000rpm & with a resin containing micro diamonds coating the floor pads, the UHS polisher creates a unique gloss effect on the floor surface