SEBO Filtration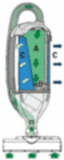 Clean Living - Clean indoor air is paramount for those who suffer from allergies, have pets, small children, or who just want a dust free home.
Anti-Allergy - K machines are fitted with three micro filters which give filtration of independently proven effectiveness. Models fitted with the Hospital Grade Filter achieve the ultra high S-Class* filtration level.
The SEBO Upright machines (Felix 1, Felix Premium, X4):
Certified Filtration Quality The S-Class-Filtration system meets the demanding requirements of asthma and allergy sufferers, because fine dust particles are firmly retained inside in the machine and not released into the air. Three stages of filter clean the air before it is exhausted.
1. Stage one consists of the sealable multi-layer filter bag. This effectively retains bacteria, allergens and other potentially harmful substances for safe disposal.
2. The second stage is the Motor Filter, positioned underneath the filter bag, which also protects the motor.
3. The final filter is the Exhaust Filter. With a huge surface area of 1648cm2, it captures even the finest particles to ensure the exhaust air is clean and pure.
* To achieve S-Class certification the filtration level of the vacuum cleaner has to be better than 99.97% at 0.3 micron ultra hygienic.
The SEBO K machines (Onyx, Hunter & Vulcano) feature a Triple Microfilter System:
The Ultra-Bag The first and most important Microfilter is the SEBO Ultra-Bag. Unlike traditional 'paper' bags the Ultra-Bag uses electrostatically charged microfibres which attract dust particles from the air stream and bond onto them. Using this electrostatic principal enables a relatively open texture to the bag material – which lets air flow through easily, yet traps virtually all dust particles. Hence the Ultra-Bag gives excellent filtration and excellent suction. It will also hold more dirt than many bags which are bigger, 'on paper'. We believe a bag is the ideal way to remove collected dust from a vacuum cleaner.
Pre-motor Microfilter An electrostatic Pre-motor Microfilter protects the motor, as well as eliminating microscopic dust particles. On the K3 Vulcano a higher specification filter is fitted which brings the overall filtration to the S-CLASS standard. This filter will also fit the K1 and K1 Komfort.
Exhaust Microfilter The electrostatic Exhaust Microfilter prevents the emission of carbon dust – which is generated by electric motors – ensuring that the air emitted by the vacuum cleaner is cleaner than the room air.